Company Home




Company E-mail




Company Web Site




Business Partners




Shell in the Community
"Our Responsibility Targeting the Community."

In addition to our core business activities, we believe we have an ongoing responsibility to. link Shell with local institutes as well as governmental and non-governmental organizations, cooperating with these in five principal areas: Education, Environment and Safety, Culture and Art, Sports, Health and Community projects.

SD Team was set up from Volunteers were requested from each department so that there would be a diverse team ranging from engineers and earth scientists to finance, social investment and HSE specialists.

This team serves the interests of the country, by tackling issues of importance to local communities with following principles:

- Continuously engage and consult our stakeholders to maximize social benefits and minimize adverse social effects of Shell activities, considering transparency and assurance.

- Ensure the efficient use of energy and resources with reduction of discharges and emissions in Shell activities, considering preservation of natural environments.

- Maximize economic benefits of business activity and include both environmental and social criteria in business decisions.


Community Projects in Cairo Governorate

Shell Egypt supported two projects proposed by two NGOs; The Right to Live Association and Caritas Egypt. Its aim was to raise the quality of lives of the community's needy sector by creating employment opportunities for persons with special needs, and creating self-sustaining projects that help the association to continue its services. Additionally, to contribute in the activities that clearly add economic, social, environmental benefits and can be sustained without Shell support in the long term.

Shell adopted Schools

Under the supervision of the Ministry of Education, Shell 'adopts' local government schools, renovating school facilities and backing student activities. The programme is two- pronged: firstly, to help in the renovation of the school building and facilities, secondly, to back student activities, such as sporting events, training courses, field trips and competitions in the subjects of 'sports', 'education', 'health and environment' and 'arts and culture'. The Shell companies in Egypt supported scheme at present benefits a total of 6,000 students.

Since 2001, we initiated an e-business awareness campaign "Bridging the Digital Divide" project (BtDD) in adopted schools during summer where we provided computers, printers, internet connection and conducted a research competition among students on issues related to Shell issues.


Community Projects in Matruh Governorate

Shell Egypt's main contributions to society are through its business activities; development of oil & gas fields, marketing of oil products. Distribution of gas, wealth generation and customer satisfaction. However some sections of the community may not benefit directly from Shell operations. In 2001 we identified the Matruh Governorate as a region critical to Shell's operations (our Obaiyed Gas Field is close to Matruh). The community has a lot of development needs and a feasibility study was initiated through the SD team to assess what kind of assistance:

The official launch of two out of the three SD projects in Matruh took place in February, under the auspices of HE the Governor of Matruh.

Petroleum Class, Matruh Technical School

Shell Egypt has played an important role in providing audio-visual equipment, computers, videos, reports, books, magazines and dictionaries to the class. Shell also organized a 6-week English language course for the students. There are plans to start a visiting lecture series in 2003 to widen the curriculum and provide contact with oil industry representatives. Shell intends to take a long-term interest in the school to ensure that courses remain up to date and that graduating students have access to oil industry employment.

Solar Panels for Remote Health Stations

Matruh Governorate covers 150,000 km2 and has a population of half a million. Outside of Marsa Matruh, the population is dispersed and is served by remote health stations. Many of these health stations do not have a reliable power supply and therefore the healthcare they can provide is compromised. Shell Egypt in partnership with the Ministry of Health decided to install solar panel units to ensure a regular energy supply. Five key health stations were identified and have been renovated. They are now equipped to provide round-the-clock emergency cover as well as first aid and basic health care provision.

Plastic Waste Recycling Plant

Marsa Matruh City produces 584 tonnes of plastic waste per year. Much of this waste is recyclable but the City does not currently have any plastic waste recycling facilities. As a result all the waste goes to the City dump site.

Shell Egypt, in partnership with the Matruh Governorate and an Egyptian NGO, the Association for the Protection of the Environment (APE) has have agreed to provide the City with a plastics waste recycling plant that will be built close to the organic compost factory where Matruh's waste is sorted.

The plant will recycle 0.5 tonnes of plastic waste per day, equivalent to 183 tonnes per year. The plant will help reduce the environmental impact of plastic waste and will also provide jobs for local people (16 people are required to run the recycling plant per shift). It is hoped that new business opportunities will be provided in selling the recycled plastic. The expected profit from selling the recycled plastic can be ploughed back into the recycling plant to ensure it is properly maintained, and even expanded, ensuring the long-term sustainability of the project.


Community Projects at Beni Suef Governorate

Shell Egypt was successful in securing a Shell Foundation Grant for a local NGO working in Dyabia at Beni Suef Governorate. The Foundation will execute an integrated village development project that aims to improve livelihoods through improved education, agricultural and health practices. In preparation for the implementation of this project the SD team organized a workshop to debate sustainable development issues and start capacity building locally.


LiveWIRE - Youth Enterprise
LiveWire is a program developed by Shell to support youth development and help young people to become interested in setting up in business and in working for themselves. Feasibility study has been conducted towards establishing the Intilaaqah program in Egypt.

Art and Culture
Shell in Egypt launched its Egyptian Artists Website in 1997 to showcase the work of Egyptian artists, abroad, and to help these artists display and market their work in forums other than public exhibitions, please visit our site: www.egyptart.org.eg.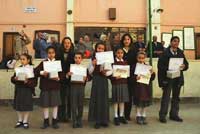 Shell Team congratulates Al Makrizi Students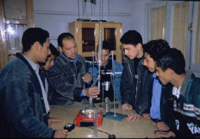 Petroleum Class students pursue lab activities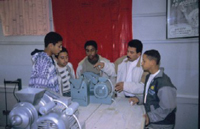 Practical training is the key in Petroleum Class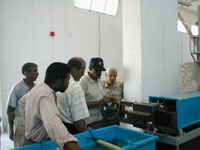 Plastic waster recycling plant in Matruh